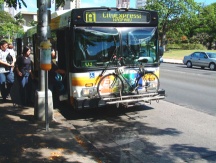 TheBus is the island of O'ahu's public transportation system, and one of the best in the nation. (It was designated "America's Best Transit System" in 1994-95 and again in 2000-01.) According to the company's web site, each day 218,000 trips are made on one of 525 buses that serve 4,200 stops. (That translates to 30 seconds between stops on most routes.)
Unfortunately, despite the popularity of the bus among locals and tourists alike, TheBus is facing financial struggles. In June, fares were raised from $1.50 to $1.75 for individual fares and $27 to $30 for monthly passes. Other fares increased too.
To cope with the budget shortfall, this past June TheBus reduced service on 23 routes by at least one bus, increasing waiting time and crowding passengers. Even more reductions are planned in August (PDF).
Coincidentally, the contract between O'ahu Transit Services (the company that runs TheBus under contract by the City & County of Honolulu) and the local Teamsters expired recently. Negotiations are at a deadlock, and if OTS doesn't agree to a costly benefits package*, the Teamsters have declared that they will strike on August 26th. If they do, the 525 buses people are used to seeing on Hawai'i's roadways will suddenly disappear.
Now, if all that news isn't exciting enough for a regular rider, there's always the most recent story – Mayor Harris has suggested increasing fares again for the second time in two months. This time, the increase would only affect people riding on bus passes (like me), and it would only go toward funding the routes slated to be cut, not the contract stipulations the Teamsters are demanding.
Whoever said riding TheBus wasn't an adventure?
(Photo courtesy City & County of Honolulu.)
* LINK TENDING 1/11 – Removed dead link.